Ramser Development Company Secures Two Major Industrial Storage Tenants in Altamonte Springs, FL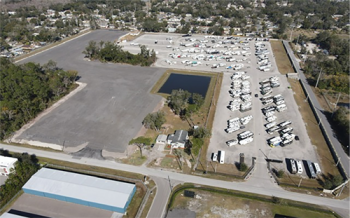 Ramser Development Company has secured two new tenants at RV Storage Depot. Located in Altamonte Springs, RV Storage Depot is a premier 55-acre recreational vehicle and boat storage facility.
A recently improved 3.75-acre portion of the property has been secured and occupied by an undisclosed Fortune 500 company, and Jingoli Power is set to take occupancy of a 19-acre segment this month.
Lease terms for both tenants were not disclosed. Monica Wonus and David Murphy of CBRE represented Ramser Development in the lease transaction. Jingoli was represented by Steve McGeorge with IRG Commercial.
Ramser Development recently completed development on a 14-acre section of the property that resulted in additional RV and boat storage spaces as well as individual yards for industrial outdoor tenants. All 55 acres of the property are now improved and fully operational, and being managed by RVSD Management, an affiliate of Ramser Development Company.